View An Entire Issue!
GET THE MESSAGE ACROSS
WE'LL DO THE WORK
Optimize and maximize communication with your partners. Leadfoot Media™ has created a tool to effectively communicate your team's activities and allows you to focus on preparing your hot rod for the victory lap.
"We want sponsored teams to provide us updates on what they are doing, as opposed to someone who wins all the time but doesn't really care about the product or the company."
Bob Patison
Executive Vice President
Lucas Oil Products
Excerpt From Sept 09 Issue Of PRI Magazine
Your Dynamic Impulse™ is a customized monthly magazine dedicated to your program. We break down your monthly results and activities into a series of cohesive short stories your readers are sure to enjoy while informing them of your success.
KEEPS YOUR EXTENDED NETWORK INFORMED Marketing Partners
Clients & Customers
Media Contacts
Employees
Family & Friends

YOU ARE THE BEST,
AREN'T YOU?
Your Dynamic Impulse™ will feature your logo on the cover along with a headline from the feature story of the month. The contents inside your magazine will change monthly based on the activities of your program, after all - There are no limits.™
This tool does the work for you. No more need to chase your marketing partners trying to inform them of your results.
While your competitors are making phone calls, JUST HIT SEND!
Which Is Best For Your Partners; Press Release Or Magazine?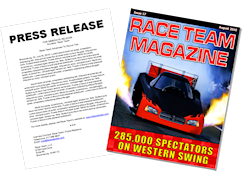 "It's a good idea to have some sort of newsletter to communicate with your sponsors on a monthly basis. It should be a customized report on what has been happening and how that helps their business."
Jeff Swoboda
Director Of Marketing
Apex Performance
Excerpt From Nov 09 Issue Of PRI Magazine
RENEWS EXCITEMENT INTO YOUR PROGRAM MONTH AFTER MONTH
"Sponsorship involves a lot of communication, you need to be very diligent in maintaining close communication with them."
Bob Sargent
Chief Operating Officer
Track Enterprises
Excerpt From Nov 09 Issue Of PRI Mag
STANDARD PREMIUM SERVICES INCLUDE:
Team Of Professionals Who
Write, Design & Create
Your Full Color Monthly Magazine

Customized Color Scheme

Stories About Your Team

9 Issues Per Year

Year In Review (Final Issue)

Logo Creation

Business Card Design

Online Archive Of All Issues Accessible To Everyone